It's the kind of old-school politics that has so many voters frustrated with government - the push for more taxpayer dollars to pay for "pet projects" that benefit lawmakers' re-election chances. Unfortunately, pork-barrel spending is the cornerstone of the new "RestorePA" initiative.

While proponents tout that the plan would be paid through a severance tax on the natural gas industry, it would be funded at the offset by a $4.5 billion, taxpayer-paid bond. Pennsylvania cannot afford to take on this multi-generational debt. However, the governor and some lawmakers can't seem to say "no" to targeting one of the Commonwealth's best performing industries for higher taxes.

The Wolf Administration is working to woo support for the plan by promising the money toward community projects they know to be popular. This includes storm preparedness and disaster recovery, pipeline development and more.

We agree that these projects are good for the state and probably enticing to lawmakers who would love to bring the projects to their districts. However, they are largely ALREADY BEING FUNDED through an impact tax that has generated more than $1.7 billion for communities across all 67 PA counties.

The impact tax ALONE is what our coalition is working to keep intact because it's keeping Pennsylvania competitive in the shale play. Under RestorePA, the impact tax would be combined with an additional severance tax - making Pennsylvania one of the least competitive natural gas drilling states.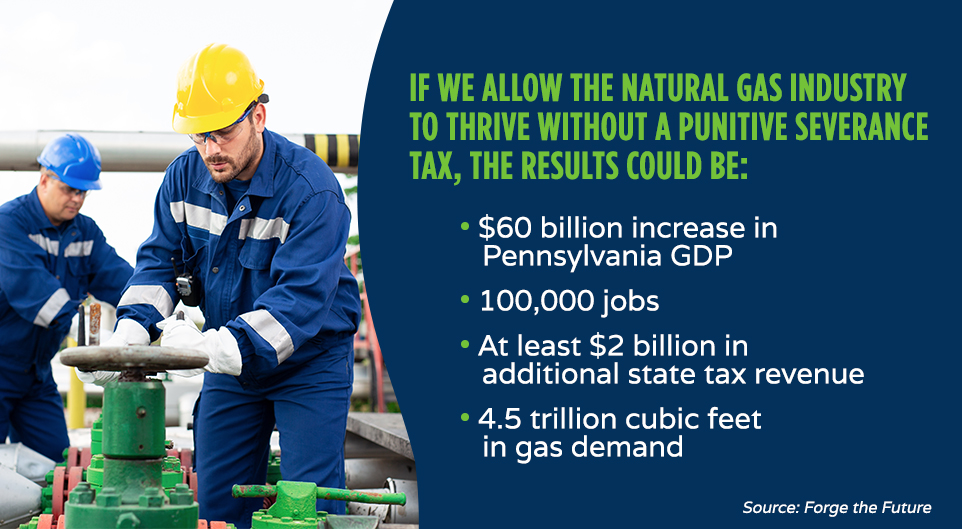 Our question to lawmakers is, what do they think would benefit the state more - supporting public policies that would encourage the natural gas industry to thrive and bring revenue, jobs and energy independence to Pennsylvania; or supporting yet another government-controlled pork barrel project that will drive activity to other gas drilling states?

Here's what Pennsylvanians are saying about the RestorePA proposal